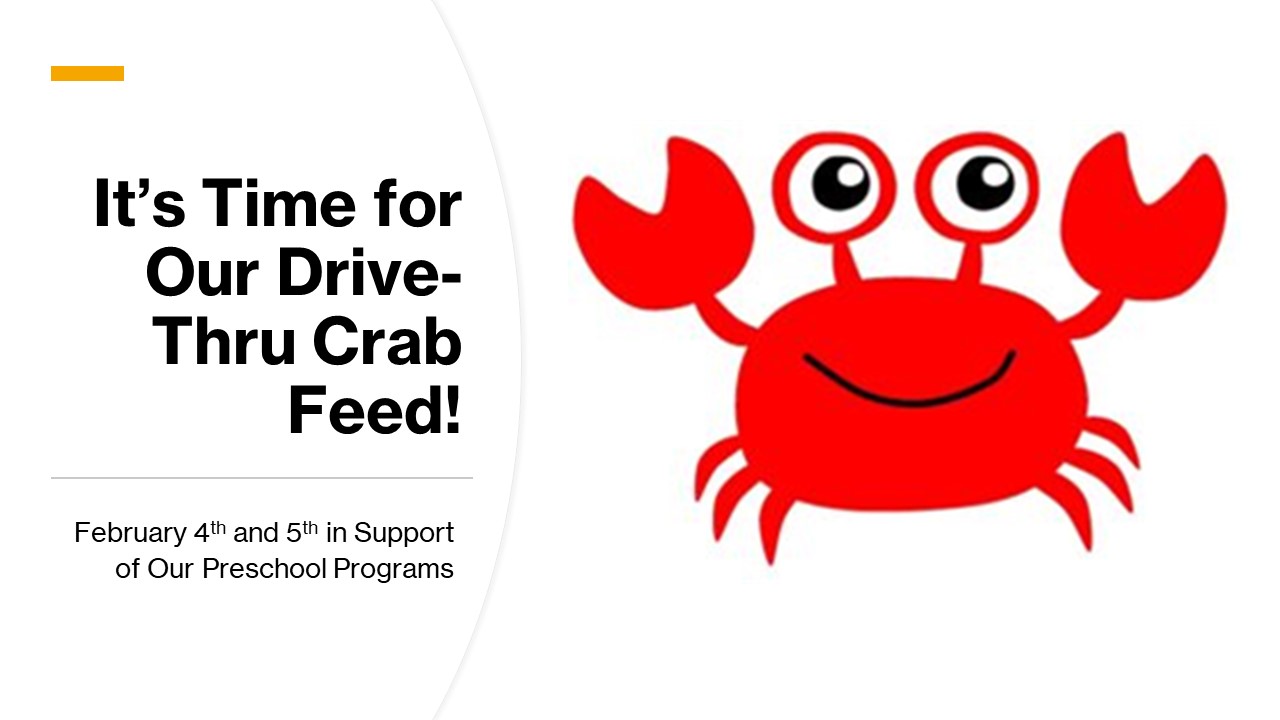 Please join us for our 'Drive-Thru Crab Feed' on Saturday February 4th (2:00p to 4:00p) or Sunday February 5th (10:30a -11:30a)  in support of Holy Shepherd's Preschool Programs.  Each meal is priced at $75 (and includes a $45 tax-deductible receipt.)
Your Crab Meal  — Each meal includes 3 lbs. of cracked/cleaned crab (your choice of regular or marinated crab this year!), fresh-baked bread, a serving of pasta salad, a fresh-baked cookie and one free raffle ticket!
Food Pickup — Swing by our parking lot at 433 Moraga Way between 2p and 4p on Saturday, February 4 (or after worship or Sunday, February 5) where you'll be greeted by our Crabby Crew!  They'll hand you your prepackaged / bundled meal kit so that you can take it home and dig in in the comfort of your own home.
This Year's Crabby Raffle — This year's Crabby Raffle prizes are outstanding!  Five themed gift-baskets, including:
San Francisco Giants basket — including tickets to a 2023 Giants game
California Wine basket — with 4 premium bottles of wine from our Golden State
Gift-Card Gift basket — with gift cards from both local stores and national chains
Children's Book basket — an assortment of children's books for preschoolers and young readers
Amazon Fire basket — including a brand-new Fire tablet!
Additional Raffle Tickets may be purchased online or at the time of your food pickup @ 1 for $5, 5 for $20 or 10 for $35, with all proceeds being used to support Holy Shepherd's existing and emerging preschool programs! (Please note that — per current IRS rules — we are unable to provide a tax-deductible receipt for the purchase of raffle tickets.)
Pre-ordering is REQUIRED!  To ensure that your crab meals are ready and waiting for you, ALL meal orders must be placed by Sunday, January 28th!  There will be NO day-of-event sales.
To order, complete in the form below or contact Cristi in the church office at (925) 254-3422.  After submitting your order, you may pay:
with a check made out "Holy Shepherd" at time of pick-up or mailed beforehand,
with cash at time of pickup,
with Givelify — our online giving portal  (To pay via Givelify, scroll to the bottom of our homepage and click on the green Givelify button.)

_________________________________________________