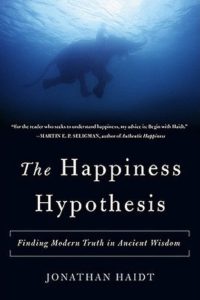 PJ's Book Club is a non-fiction reading group focusing on current works of history, morality, theology and cultural geography.  The coordinator (no surprise here!) is Pastor John Valentine and he is the autocratic/dictatorial selector of reading materials for the group.   PJ's Book Club is next scheduled to meet and discuss Jonathan Haidt's book The Happiness Hypothesis on the evening of Tuesday, September 26th in the Center for Ministry at Holy Shepherd Lutheran Church at 7:00 p.m.   Get your copy at Amazon or a local bookstore, because the only rule in PJ's Book Club is that "If you haven't read the book, you're not invited to share your opinions!"
As you read and prepare for our conversation:
• THINK BEFORE READING! How would you define 'happiness'? What makes you happy? What makes you unhappy? What keeps you from being happy?
• NOTE WHILE READING! Haidt's walk through the great ideas of the Ancient World will confirm some things you believe and challenge others of them. At the end of each of the book's chapters, note what – for you – were the key learnings and key challenges of that chapter.
• CONSIDER! Which of Haidt's chapters do you find most attractive / agreeable to your way of thinking? Which of them presents – to you – the greatest challenge? Why did you find that one to be so challenging?
• PONDER! Name one concrete act /activity in your life which The Happiness Hypothesis invites / challenges you to embrace so that you might be happier! What will it take for you to embrace that act or activity?