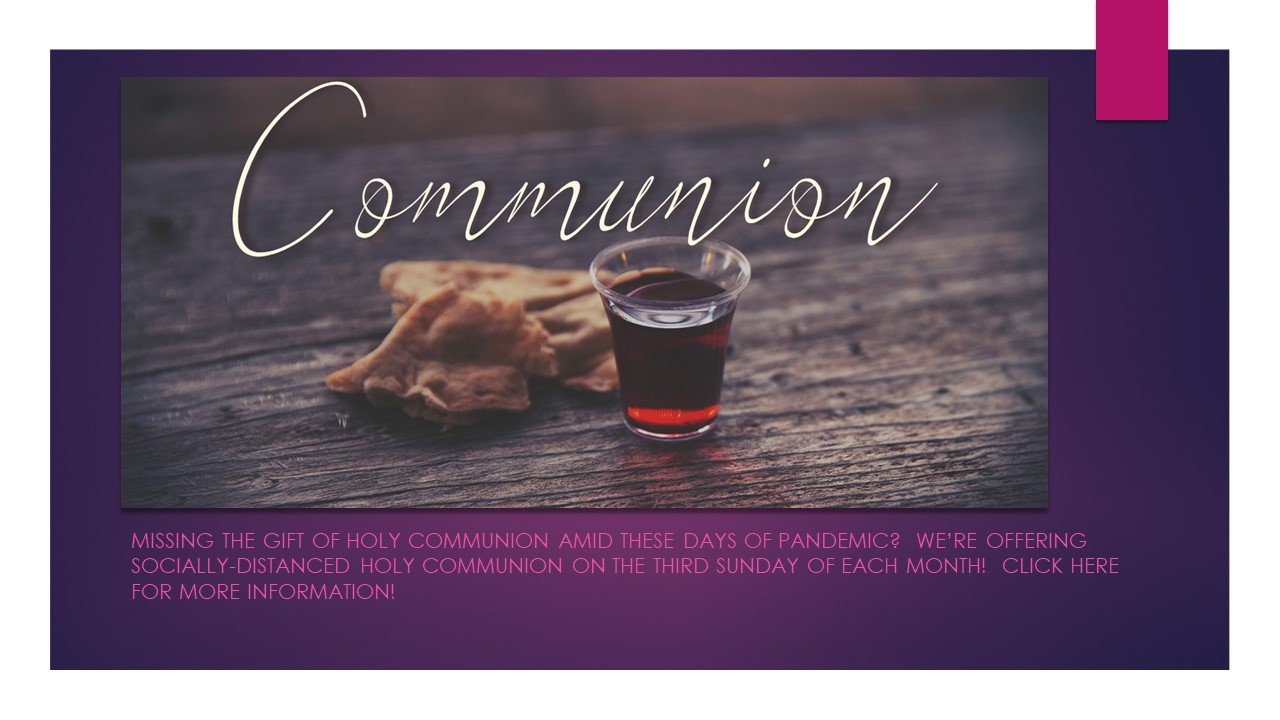 Holy Communion is central to our lives as people of God.  Jesus said "Do this in remembrance of me" and when we share Holy Communion, we are brought into connection with Him and with His Kingdom.   Yet the directives of our County Health Department have effectively precluded us from sharing that meal in which the forgiveness and presence of God become real for us  ….. until now.
Staring Sunday, October 18th, we're going to open our Sanctuary on a one-Sunday-a-month basis for a time of socially-distanced sharing of Holy Communion.   It won't be a return to a full worship experience, but it will allow you to kneel/stand at the altar rail, hear those poignant words "Given and shed for you" and receive the bread and wine of Holy Communion.
When Will It Happen?  Socially-distanced Holy Communion will be offered in our Sanctuary on the 3rd Sunday of each month until further notice between Noon and 1pm.  (Mark October 18th, November 15th and December 20th if you're looking at your 2020 calendar!)
What Can You Expect?   When you arrive at our campus, you will be greeted by an usher.  If there is seating space in the Sanctuary, you will be invited to enter – after you've donned your facemask and sanitized your hands.  If Sanctuary seating is already at capacity, you'll be invited to wait outside until seats become available.
When you enter the Sanctuary, you'll take a seat in one of the identified open pews, where you may pause to reflect and  pray.  When you are ready, you'll be invited to come to one of the two altar rails, where the bread and wine/juice of Holy Communion will await you, and one of our pastors will share the words of Communion, and you'll be invited to eat and drink in remembrance of Him.  Where you finish, please exit the Sanctuary via the back door and return to your vehicle without lingering.
Know that we respect your decision if you unable or choose not to come to Communion when it is offered in this way. For we know that – whether together or apart – we have everything we need in the grace of God made real in Jesus Christ.