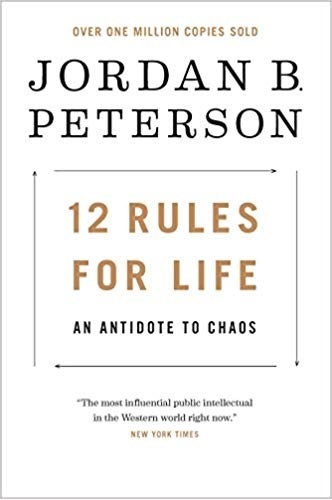 PJ's Book Club is scheduled to meet and discuss Jordan Peterson's book 12 Rules for Life on the evening of Tuesday, March 12, 2019 (note this date change!) in the Center for Ministry at Holy Shepherd Lutheran Church at 7:00 p.m.  (You can currently obtain a copy through Amazon, local bookstores or the Contra Costa County Library.)
12 Rules for Life: An Antidote to Chaos is a 2018 book by Canadian clinical psychologist and psychology professor Jordan Peterson. The book probes a series of abstract ethical principles about life influenced by and based on biology, literature, religion, myths, clinical experience and scientific research.  It topped bestseller lists in Canada, the U.S. and the UK, and has sold upwards of two million copies.  While 12 Rules for Life was well-received and much-publicized when initially released, it (and its author) have since become the target of many critical reviews.  In fact, The New Yorker magazine recently asked of Peterson, "How did a once obscure academic become the Internet's most revered — and reviled — intellectual?"
Rather than deferring to others, we'll seek to decide for ourselves whether Peterson effectively makes his case — and we'll seek to decide for ourselves the extent to which he is to be feared. 
As you read, consider the following:
1.  Which of Peterson's twelve rules do you find most familiar?  Which of them do your find more challenging?
2.  How does this book align with your understanding of Christian discipleship?  Are Peterson's 12 Rules for Life in keeping with the ways Jesus calls us to live in 'The Sermon on the Mount'?
3.  In what ways might Peterson's perspective speak more to life as experienced by men that to women?
4.  Have you heard the author's name being referenced in the news — be it positively or negatively?  Make note if you do!
About the Author: Jordan Peterson is a Canadian clinical psychologist, cultural critic, and professor of psychology at the University of Toronto. His main areas of study are the psychology of religious and ideological belief, and the assessment and improvement of personality and performance.