PJ's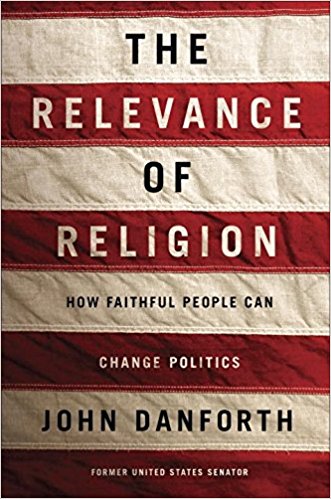 Book Club is scheduled to meet and discuss John Danforth's book The Relevance of Religion on the evening of Tuesday, March 13th in the Center for Ministry at Holy Shepherd Lutheran Church at 7:00 p.m.  (You can currently obtain a copy through Amazon, local bookstores or the Contra Costa County Library.)
As you read and prepare for our conversation:
• THINK BEFORE READING! We live in a nation that asserts a clear separation between church and state. But the Bible makes claims about how we ought live as a human community. What – to you – is the current role of religion in our politics? What – to you – is the proper role?
• NOTE WHILE READING! Keep a running list of:
+ 'aha's – things you learned that you didn't know before
+ 'amen's – your points of agreement with the author
+ 'no way's – your points of disagreement with the author
+ 'hmm's – things you'd like to consider further
• PONDER! Danforth proposes a new model for bipartisanship in our nation and a different role for religion in the political realm than that which is currently operative. Whether you agree with his perspective or not, he invites us all to consider how our faith and our politics intersect. How might The Relevance of Religion challenge you to reevaluate how faith and politics intersect in your life?
About the Author: John Danforth graduated from Princeton University, Yale Divinity School, and Yale Law School.  An ordained Episcopal priest, Danforth practiced law in New York City and St. Louis before serving as attorney general of Missouri, United States senator from Missouri, and United States representative to the United Nations.  Danforth officiated the funeral service of former president Ronald Reagan in 2004  and that of Washington Post executive Katharine Graham in 2001, both at the National Cathedral.