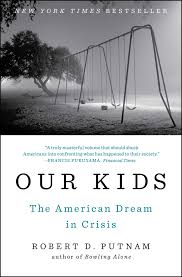 PJ's Book Club is scheduled to meet and discuss Robert D. Putnam's book Our Kids on the evening of Tuesday, August 21st in the Center for Ministry at Holy Shepherd Lutheran Church at 7:00 p.m.  (You can currently obtain a copy through Amazon, local bookstores or the Contra Costa County Library.)
The American dream: get a good education, work hard, buy a house, and achieve prosperity and success.  This is the America we believe in — a nation of opportunity, constrained only by ability and effort.  But during the last twenty-five years, Putnam argues that we have seen a disturbing "opportunity gap" emerge.  Americans have always believed in equality of opportunity, the idea that all kids, regardless of their family background, should have a decent chance to improve their lot in life. But now, Putnam argues, this central tenet of the American dream seems no longer true or at the least, much less true than it was.  In OUR KIDS, Putnam offers a personal, but authoritative look at this crisis.
As you read, consider the following:
1.  Is Putnam's case a compelling one to you?  Does it 'hold water'?  Why or why not?
2.  How does this book make you feel?  Happy?  Sad?  Hopeful?  Hopeless?  Frightened?
3.  What does this book invite YOU to do differently?  How could YOU respond to Putnam's 'wake-up call'?
About the Author: Robert Putnam is a Professor of Public Policy at Harvard University.  He has received numerous scholarly honors, including our nation's highest honor for contributions to the humanities.  He has written fourteen books,  including Bowling Alone, one of the most cited publications in the social sciences in the last half century.   He has consulted for numerous American presidents, British prime ministers, and other global leaders.